Today was a special day.  My son was away on a school trip and I had an opportunity to take my daughter to a play, so I took it!  I've always loved theater and music so to be able to share that with my little girl was pretty cool.  The play was, The Snowy Day, at the Newman Education Building just across the street from the Denver Center.  
My daughter is in 2nd grade and gets antsy after five minutes if she's not completely captivated so I was concerned about the length of the show but it's only 45 minutes, perfect for the little ones.  DCPA did a great job of keeping the children interested and connected.  The children attending were from pre-k through about 3rd grade, although my daughter may have been the oldest.  With fun music, great stage direction and energetic actors, this show did not disappoint.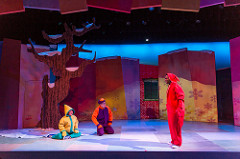 Inspired by Ezra Jack Keats' acclaimed children's books, The Snowy Day follows the adventures of a young boy, Peter, who is played by Robert Lee Harvey.  Harvey is a man, not a child, and the kids found that hilarious.  It was pretty funny.  Mr Harvey is joined by Zak Reynolds and Rachel Kae Taylor who play several roles of friends (and dogs) in Peter's life.  It's amazing what they're able to do with a small stage and some ingenuity!  The used not only the stage but the aisles as well.  The children would get so excited every time one of the actors would come running off the stage toward our seats.  The kids got a chance to participate as well but I'll leave a little for you to discover yourself!  ; )
The production kicks off the new Theatre for Young Audiences program, which focuses on performances especially tailored for youth audiences.  If you haven't taken your child to their first play, this is the perfect opportunity to do so.  Theatre can be more than just fun, it's educational and teaches children to listen and observe!  We are grateful that the Denver Center for Performing Arts has launched this program to bring children's theatre to our kids.  
Here are some interesting facts about them:
• DCPA launched an educational initiative to introduce a younger demographic (PreK-3) to
theatre through 'Theatre for Young Audiences.' Program began in May 2017 with Oily
Cart's In a Pickle as a co-production between DCPA Education, New York's Lincoln 
Center for the Performing Arts and the Brooklyn Academy of Music.
• According to the Denver Great Kids Head Start Community Assessment 2016, students
who participated in a full year of arts programming, demonstrated significant growth
across all categories (Social-Emotional: 43% growth, Physical: 36% growth, Language:
37% growth, Cognitive: 39% growth, Literacy: 47% growth, Mathematics: 54% growth)
• Early exposure to the arts:
o reduces dropout rates
o improves standardized test scores
o increased graduation rates by 18%
o increased the likelihood of receiving a college degree by 165%
o contributes creative employees to the workforce, the #1 trait that 75% of
employers seek
• DCPA will stage over 100 performances for up to 20,000 Denver area children to
introduce them to live theatre through the Theatre for Young Audience program.
• Over 9,000 students will receive a scholarship to attend a performance of The Snowy
Day.
• Fall DCPA Education program classes will have a focus based on Ezra Jack Keats books

I hope you'll plan to bring your little ones to this lovely show!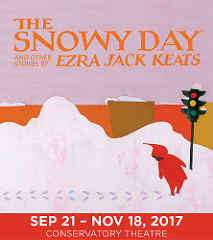 September 21st - November 18, 2017 in the Conservatory Theatre
Performance dates are:

Monday, Wednesday, Friday 9:30 am, 11:30 am
Thursday 10 am, 1 pm
Saturday matinee 1:30 pm, 3:30 pm
Tickets for The Snowy Day... start at $10 on the weekday and $15 on the weekend. To purchase,
call Denver Center Ticket Services at 303.893.4100. For groups of 10 or more, please call
303.446.4829. Tickets also may be purchased at the Denver Center Ticket Office, located in the
Helen Bonfils Theatre Complex lobby. Buy and print online at www.denvercenter.org. $10
DCPAccess tickets available for select performances made possible in part by SCFD. Student
rush $10 tickets are available one hour prior to curtain with a valid student ID and are subject to
availability. Senior and military rush tickets are available one hour prior to curtain, subject to
availability. Children 4+ are welcome in our theatres and must be ticketed.
The Denver Center for the Performing Arts is supported in part by the Scientific and Cultural
Facilities District (SCFD). Please visit our website at www.denvercenter.org.
Our tickets were sponsored, but my views are my own, and my daughter's most certainly are!  ; )